Most Popular Adult Webcam Sex Sites 2017
- According to Alexa rank
Intro: Live sex cams has been a hot topic for pleasure online for years now. There has been steep competition and some sites have risen to glory. Actually all of these sites have had great performances this year and increased in popularity. Check out the list of the top 10 most popular adult webcam sex sites in 2017!
Date: 08.30.2017 Last edited: 09.01.2017
Author: Alex
If you want to know what the most popular adult webcam sites in 2017 are please read on. The rankings is gotten from Alexa which is a trusted source for web traffic data. The rank shows the rank of the site compared to all(!) other sites online - not only porn sites or cam sites. They are listed in order from most poular to least popular. First, have a look at this chart which shows how many daily visits the top cam sites gets - estimated from Alexa rank and this formula. You can see how huge these sites really are and how the most popular ones gets almost all of the visits. The total pie consists of a staggering 143 million daily visits.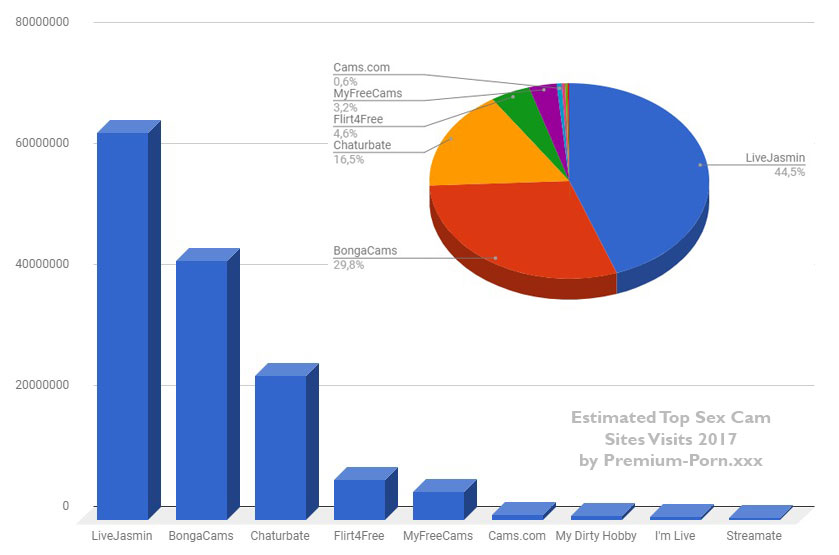 LiveJasmin ranks #53. Most visitors from USA, Germany, UK, France and Spain (in that order) This cam site has risen tremendously in popularity online over the last year going from rank 300 to rank 53(!) and it is clearly the most popular webcam site online today. However this site only gets about 1% of it's visitors from search engines. 10% comes from xHamster and 6% from PornHub. LiveJamsin review.
BongaCams ranks #79 and gets the most visits from USA, Spain, Italy, Poland, Germany (in that order). The site has risen in popularity about 20% over the last year going from rank #100 to #79. BongaCams review.
Chaturbate ranks #142 and gets the most visits from USA, Germany, UK, France and Japan (in that order). Chaturbate has risen in popularity online greatly going from overral websites rank of 250 to 142 today. Chaturbate review.
Flirt4Free ranks #504 and gets the most visits from USA and India followed by Egypt, Chine and Brazil (in that order).
MyFreeCams ranks #720. This site also has risen in popularity greatly over the last year going from rank 1000 to 720 today. The popularity seems to have peaked May / June of 2017 and is declining somewhat now. Funnily enough 7.3% of the visitors to MyFreeCams in 2017 have come from Chaturbate (Way to give your lunch to your competition Chaturbate!) The site got about 4% of it's visits from search engines a year ago (mid 2016) but that has doubles now (mid 2017).
Cam4 ranks #834 up from #1100 a year ago. You will find some pretty sweet VR cams here. Cam4 gets the most (30%) visits from Italy. After Italy the site is most popular with people from the USA, France, Spain and Brazil (in that order).
Cams.com is lagging the most popular sites by quite a bit. It ranks at #4.000 and gets 82% of it's visitors from the USA. It has seen greatly increased popularity since only a few months ago though when it ranked around #15.000. Models online: 557: 409 female, 121 male, 27 trans. Cams.com review.
My Dirty Hobby ranks #5.600 and is mainly a German live sex cam site with the most models and visits from that country. It actually gets 85% of it's visits from Germany.
I'm Live ranks #8.400 back from #4.000 a year ago. It gets the most traffic from India and USA each contributing about 20% of the visits to the site. It also gets a lot of visits from China, UK and Japan (in that order). I'm Live review.
Streamate is one of the largest cam sites but it lack a bit of popularity amongst surfers. It ranks at #10.700 and gets 50% of it's visitors from the USA. This site has not seen the great growth in popularity as the other sites over the last year. Maybe it is just a little late and will see it's rise to glory at a later time? I would certainly suggest that it is one of the best sites. Streamate review.
Even though all of these cam sites have risen in popularity the Google search data shows that both "sex cams" and "adult webcam" have lost a lot of poularity over the last 12 years and "sex cams" have lost about 50% and "adult webcams" about 90%. This indicates that growth of the cam sites really comes from links and advertisements on other porn sites rather than being requested in search. However brand searches is also part of the story and those shows that LiveJasmin was the most popular cam site by far and continued to rise until 2010 but have declined since then. BongaCams started gaining popularity in Google in 2013 and surpassed LiveJasmin in 2015 and it continues to rise. Chaturbate popularity however trumps the other sites. It has 8 times the search volume compared with BongaCams which is the second most popular in search.