Evil Angel
Sexy Hardcore Anal and Rough Sex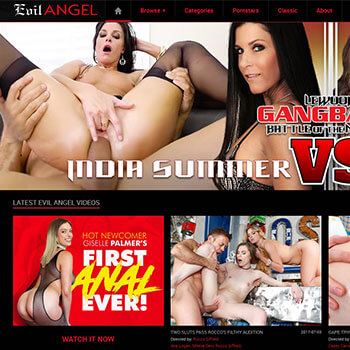 Features: Big archive, Multiple niches Show nichesHide niches Niche (Total videos): Amateur (88), Anal (6.6k), Asian (876), Ass (3.5k), Ass to mouth (3.8k), BBW (58), Behind The Scene (1.5k), Big Dick (4.3k), Big Tits (5.2k), Bisexual (57), Black (849), Blonde (5k), Blowbang (109), Blowjob (8.2k), Brunette (8.1k), Bubble Butt (2.7k), Caucasian (716), Classic (348), College (5.4k), Colored Hair (327), Condom (198), Cum Swallow (1.7k), Cum Swapping (659), Cumshot (5.3k), Cumshot Compilation (60), Cunilingus (5.1k), Deepthroat (6.4k), Double Anal (112), Double Blowjob (916), Double Penetration (852), Ebony (366), Enema (47), FaceSitting (455), Facial (1.5k), Family Roleplay (82), Female Fucks Shemale (18), Femdom (255), Fetish (1.3k), Fingering (5.4k), Fishnets (1.8k), Fisting (152), Foot (1.3k), Gangbang (190), Gaping (2.3k), Golden Shower (16), Gonzo (3.6k), Group Sex (582), Hairy (420), Handjob (968), Hardcore (8.6k), HD Porn (8.2k), Interracial (1.4k), LadyBoy (145), Latina (1.1k), Leather (182), Lesbian (1.3k), Lingerie (212), Male Fucks Shemale (361), Mature & Milf (1.5k), Natural Tits (7.5k), Non-nude (60), Nude (1k), Older/Younger (35), Open Mouth Facial (4.7k), Orgy (138), Outdoor (1k), Outtakes (126), POV (3k), Pantyhose (1.4k), Pegging (84), Petite (1.3k), Pornstar (5.5k), Public Nudity & Voyeur (197), Pussy to Mouth (2.7k), Reality (101), RedHead (699), Reverse GangBang (27), Rimming (4.8k), Shemale & Tranny (1.1k), Shemale Fucks Female (156), Shemale Fucks Male (264), Shemale fucks Shemale (65), Small Tits (549), Softcore (120), Solo Masturbation (1.4k), Squirting (604), Step Sister (16), Stepdad (25), Stepmom (37), Stockings (818), Straight Porn (13k), Strap-On (500), Swinger (14), Tattoo & Piercing (5.6k), Teens (959), Threesome (2.1k), Tits Cumshots (605), Titty Fuck (1.3k), Toys / Dildo (4.1k), Tribbing (73), Uniform (218)
Price: $2.95 for 3 days (Trial), $39.95 for 1 month, $89.95 for 3 months ($30/mo), $139.95 for 12 moths ($12/mo)
Discount: $19.95/mo, $29.95/mo, $95.40/12mo!
Payment options: Credit Card
Rating: 4/5
Review date: 07.03.2017
Site review: This is where the pornstars go to go real dirty and be fucked real hard - Evil Angel is a very popular porn site featuring lots of exclusive porn videos and photos. This porn site is all about rough hardcore sex and dirty passionate sex with sexy girls. The most popular xxx niches at Evil Angel is Blowjob (8.200), Anal (6.600), Toys (4.000), Ass to Mouth (3.800), Gaping Ass (2.400), Interracial Sex (1.400), Shemale and Tranny Porn (1.200), Teens (950), Group Sex (580). If you visit the site you can browse though all of their porn videos and try the advanced niche filter and also get 5 video previews even without having an account. Many of the most famous pornstars both female and male do porn for Evil Angel and so do the best porn directors. You will find so many sexy girls here that it is just amazing! A unique feature of Evil Angel is that you can browse the porn here by the name of the director. This gives a lot of prestige into making and directing porn with not only the most sexy girls and guys but also with the best and most passionate acting and most real looking sex. In total there are over 13.000 videos on this site and most of the videos have related high resolution photo sets available for viewing online and downloading. Most of the videos are in HD 1080p. They have not yet started shooting video in 4K.
You can browse the entire Evil Angel site without a membership and without any registration. Great for previewing the site before you buy. You can browse their models (pornstars) by Most recent, Most viewed, Highest rated, or A-Z and you can filter to only show girls, guys or shemales.
The member area of Evil Angel is delicate and good looking as well as very easy to use. You will find all the best features of premium porn sites here like filtering categories - great for combining niches to find just the porn you want - playlists and favorites for saving the porn that gets your blood pumping in the right part of your body.
Member area screenshots