Streamate
Best Premium Sex Cam Site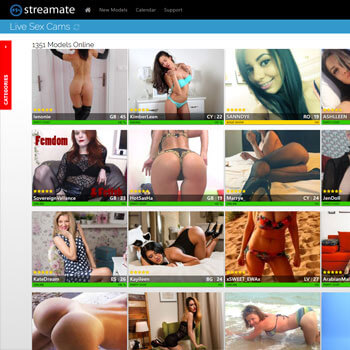 Headlights: Lots of girls, Gold shows, Sexy events, Not spammy chats, Model photos & videos
Models online: 1.800 on average
Payment options: Credit Card
Rating: 5/5
This sex cam site is truly one of the most popular ones, not only Streamate.com but all the co-branded sites out there that ARE Streamate only with a different logo. Popular sites like Bang.com, PornHub and many many more use this. Since so many sites are partnering with Streamate a ton of sexy cam models are attracted to stream their cams there! (It does not matter if you use the Streamate.com or one of the branded sites, they are all just the same) On this site you can actually chat and interact with the models without the chat only being a place for spamming lots of messages which the models never answers, like it is on some other sites like for instance Chaturbate. On Streamate it is much easier to get a personal connection with the girls (and guys and trannies), making the cam experience much more premium. This site also has a really large number of online models at any given time. The video thumbnails does not autoplay when you mouseover which is a slight drawback. A great pro for this site is a unique feature called gold shows, these are shows where everyoen can chip in a couple of dollars and if the total amount gets high enough the cam girl will start a (usually) 5 minute+ sex show for all the contributors. Before the gold shows start the models are doing their best to be extra sexy which everyone can enjoy even without a membership. There are always gold shows going on!
Most of the cams are available in HD 720p and some in Full HD 1080p. 4K resolutions would be really nice but I have yet to find that at ANY cam site. You can choose the resolution of the stream by clicking the options icon in the bottom left. Every day there are several special events going on for members. These are different types of streams with stuff like pornstar cams, squirting, bukkake and blowjobs. With the advanced search function you can easily find just the cam model you want. The lack of more payment options is the biggest drawback for this site. They do only accept credit cards and you need one just to register. Note that it is a very large and serious site that don't scam their loving customers - you will not be charged for anything uless it clearly says so. You can enjoy the site without registering though and there are no annoying popups or viewing limits without an account. Having the account registered makes the experience much better though. With your account you can enter gold shows, private chats and exclusive chats and you can chat with the models in free chat. As mentioned you can actually chat and have a conversation with the models on Streamate. This is thanks to the restrictions that everyone can't just create an account and start to spam the chats. In my view, Streamate is the most premium cam site online - Check them out if you are looking for the best live sex cam experience.
Members gets discounts, sales, and other special opportunities once in a while by e-mail!
There is live chat support on the site. E-mail and phone support is also available.
At the moment there is a pre checked box on the "success page" after joining that will sign you up for a membership to "Eroticmatch adult personals". Simply uncheck it if you do not want it.
Streamate screenshots